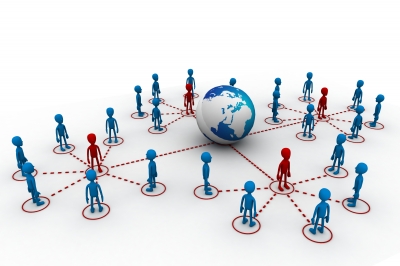 Your interview skills will determine if you get the job offer.
Networking is the process of contacting your friends and colleagues to inform them of your job search. While networking is a powerful technique, many professionals are not comfortable calling people they don't know. The networking script and guidelines provided below will deliver the results you want and get you moving.
Networking is connecting from one person to another by leveraging the "currency of trust."
In job search, you are never more than three people (or steps) away from anything you want.
GUIDING PRINCIPLES:

| | |
| --- | --- |
| Get Personal | Make a personal connection with everyone you contact. |
| Be Yourself | Speak in your own voice and words. |
| Get Organized | Keep track of every contact and schedule your follow-up calls. |
| Stand Up | Walk around when you make the calls. |
| Be Specific | Describe what you're looking for in detail. |
| Ask | Ask for what you want specifically. |
| Be Persistent | Commit to making a few calls every day. Set your pace and keep going. |
| Get Over It | Get over any hurdles. Keep contacting people. |
| Make it happen | Your goal is to build your network of contacts, then the job will find you. |
SENDING THE EMAIL
In the subject line of the email put the name of the person who referred you. Attach your resume. The content of the email should begin something like the following.
Hi, _________,
_____________suggested I contact you. I am an experienced __________looking to learn more about opportunities in the _____industry, and _______thought you would be a good person for me to contact.
---
MAKING THE CALL
You:
"Hi my name is ________________ . ______________ gave me your name.
Did I catch you at a good time?"
(Asking this question demonstrates your respect for their time. This also makes certain you have their attention. The person will answer one of three ways.)
Networking Contact:
"Yes, I have a few minutes."
(You now have permission to continue, knowing you have their attention.)
"No, this in not a good time."
(You then ask when would be a better time to call back. Ask to schedule a brief call later that day or as soon as mutually convenient.)
"It's never a good time so let's talk now."
(You now have permission to continue, knowing you have their attention.)
You:
"The reason I'm calling is that _______thought you might have some ideas for me about targets for my job search like professional associations, companies to target or colleagues of yours." (It is imperative that you are specific about what you are looking for. The more specific you are the more likely they will be able to help you )
"Have you had a chance to have a look at my resume?"
Networking Contact: (They will answer with a "yes" or "no")
"Yes"
You:
"That's great." (Then you follow with your 30 second elevator speech.)
"I would love to have the opportunity to meet you and present myself. Would it be possible to meet with you for a half hour at your convenience?"
Networking Contact:
"No"
"Then let me give you a brief overview." (Follow with your 30 second overview of your experience.)
---
ASK FOR:
– Professional organizations to target
– Organizations to target
– One or two of their colleagues to contact
– A meeting to get more information
Networking success requires consistency and persistence. It is not easy when people do not call back or respond to your emails. But networking can be extremely effective.
Please write me with any issues that you need help with.
Best of luck on your next interview. It is the most important moment in your search for a better position.
Image courtesy of FreeDigitalPhotos.net
Category: Financial Interview Preparation Tips