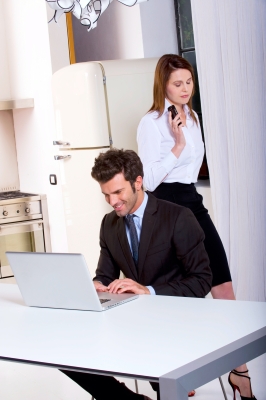 The idea of cold-calling prospective clients can leave many financial specialists like you feeling, well… cold. Or, it may leave you feeling anxious and discouraged. Building your financial planning business on your own may seem like the entrepreneurial dream, but there may be another way to climb the ladder of success without starting completely cold.
You may not be aware of how large companies, like Nationwide Insurance, are helping financial services professionals succeed in today's competitive market. Nationwide is helping financial specialists like yourself achieve the success you've dreamed of, by providing:
· A large book of business – Sometimes finding clients is the hardest part. However, Nationwide believes that cross-selling to an already established customer base is much easier than starting cold. That's why they offer their financial specialists the chance to take advantage of the work that's already started. So, if you've already worked through all the opportunities in your book, think about the opportunity that awaits you with a portfolio offered by a large company.
A full suite of financial products

– With Nationwide, you'll have all the tools you need to reach the goals you've set for yourself. From annuities and life insurance products, to mutual funds, retirement plans and selling additional products from third-party companies, you'll be able to offer your clients exactly what they've been looking for. Plus, you can sell them either direct, or through a Pershing brokerage account, making it easier and faster to build your business.
· A recognizable and a trusted brand – Clients not only know the jingle, but they find reassurance in Nationwide's stable history. Having been in business more than 80 years, they've made it through The Great Depression and now manage over $133 billion in assets. As number 124 on the Fortune 500 list, Nationwide offers you and your clients more than a jingle. They offer the trusted On Your Side® promise that hasn't wavered for over eight decades.
Flexibility to choose your best opportunity – Financial specialists with Nationwide have the unique opportunity to select the level of independence they desire. You can become a:
Financial Associate Agent

– This title offers you the opportunity to work directly with a primary agent, typically as a 1099 contractor, giving you the chance to focus more on sales versus administrative duties.

Exclusive Agency Financial Sales Specialist

– This role gives you even more independence, letting you flex your entrepreneurial muscle as you manage your own financial practice, usually with two to four primary agents.
· Competitive compensation and rewards – With attractive payouts and rewards, Nationwide is serious about attracting talented financial experts. From competitive commissions to the chance to qualify for multiple reward trips annually, top talent is properly compensated and rewarded.
Outstanding home office support

– To ensure their financial specialists spend their time staying focused on selling their portfolio of products, Nationwide offers top-quality home office support needed to promote client advocacy and excellent people resources. Best-in-class internal and external sales support provides case planning, point of sale assistance, product and sales training, along with attorneys, CPAs, an underwriting group and other highly trained financial professionals. So, when you call the 1-800 number, you know you'll get a team member, not an automated message.
Have your payouts have changed at your current company? Are your overhead expenses too high? Do you desire better market recognition and greater financial stability than your current situation can offer? Or, do you simply want to be the catalyst to watch your business grow? If so, you've come to the right place. Nationwide offers the career in financial services that many have been looking for. Find out if Nationwide's financial services positions are right for you and learn more about the opportunities at Nationwide.com, or apply today.
Image courtesy of FreeDigitalPhotos.net
Category: Financial Job Search Help and Resources